World Rock, Paper, Scissors Championships
By - Richard - 28th October 2005
Toronto, Canada is home to the World Rock Paper Scissors (RPS) Headquarters and venue to the World's annual RPS competition. The event, which attracts players from around the globe, celebrates the oldest, most culturally diverse and practiced method of solving conflict.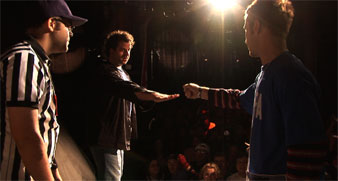 Rock Paper Scissors is gaming at its most basic, its most fundamental. Two opponents face each other and simultaneously throw hand gestures in the shape of scissors, paper or stone. Like chess or fencing, the rules are simple (scissors win over paper but lose to rock, whilst paper wins over stone), but with 27 possible gambits and many different strategies, the game itself is as complex as the mind of the opponent.
Swift Films flew out to meet the organisers of the event and to do some preliminary research and filming for a new series. The characters are every bit as eccentric as you might expect. Come back soon for all the latest news on the series.