Tools of the trade
By - Kirsty - 24th October 2014
We love keeping up to date with new production equipment and we're hugely inspired by the technological developments which enable us produce films of the highest quality possible. We're committed to enhancing the range of kit we can offer to our clients.
On the whole, our projects are currently filmed using our range of in-house full High Definition (BBC approved) Canon cinema EOS cameras (C300 and C100) with a range of prime and zoom lenses. But we are really excited about the limitless possibilities presented by ever-changing camera technologies and the development of even more amazing tools which allow us to be just as creative as we aspire to be. We have just invested in new cameras which allow us to shoot in the soon-to-be-ubiquitous 4K, which deliver four times as much detail as Full High Definition – that's eight million pixels compared to two million pixels. This will mean that our commercial clients' films are of the highest visual specifications possible.
During 2014 we have perfected a two-camera set-up for shooting interviews. This often involves using the second camera on our motorised slider (The Red Rock One Man Crew), which adds a small amount of slow smooth tracking movement into the second camera angle. We've found it really adds a unique flare to interviews and our clients have embraced the opportunity to make talking head shots stand out from the norm. We also use our motorised slider to create a more cinematic feel to our work by using it as a means of tracking the camera. This can produce particular impact when asking a contributor to look straight into the moving camera for an introduction or end shot. The programmable motor means it is also much easier to use than a manual slider when filming shots that require a small amount of motion. The movement is incredibly smooth, can be sped up or slowed down and its laser beam keeps the subject in absolute focus at all times. Two notable projects for which we have found the motorised slider indispensable, have been a short documentary showcasing the work of International Flavours and Fragrances in Holland and our 2014 AXA Graduate film.
The AXA Graduate film – along with a slate of recruitment videos for the insurance firm – have heavily featured kinetic text. Our animation is largely created using After Effects, Motion and Cinema 4D and we often make use of our portable green screen studio to film clips upon which the text or animation is to appear. Filming contributors against a green background means that we can isolate the green and create any background we care to design. And the beauty of the green screen set up is that we can easily set this up in any of our clients' offices.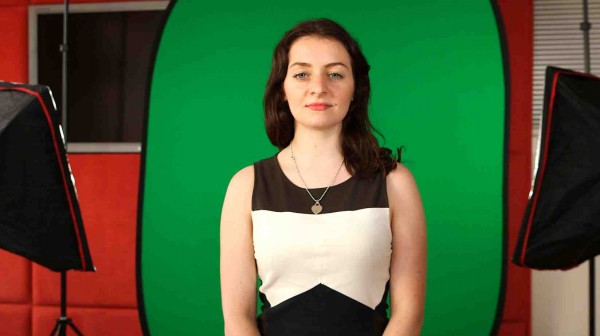 During production of our corporate documentaries over the summer of 2014, we have also made extensive use of our 10 foot-long dolly and tracks (the Microdolly Hollywood). On occasion, when we have suggested the use of this to a client, they have been worried about it 'getting in the way' of a busy office environment. However, their minds are put at rest once they see it in action. This is a surprisingly light and unobtrusive bit of kit which produces dynamic yet versatile shots. The camera is mounted onto a wheeled platform, which is pushed along rails while the camera is recording. Again, this adds a really cinematic feel, even to footage captured in the most uninspiring locations. With a tight time schedule, we've noticed – and have experienced this dilemma ourselves – that it can be tempting to just grab a few static shots of an office space to cover interviews. The track and dolly takes just a couple of minutes to set up and de-rig and adds real production value to a film. To continually build on the quality of our films, we have found it so important to think very carefully about any camera movement we can introduce to bring a situation or subject matter alive. We used the dolly and tracks extensively over the summer, while shooting a collection of fast-paced recruitment films for the likes of NFU Mutual, Burges Salmon and Wragge, Lawrence, Graham and co.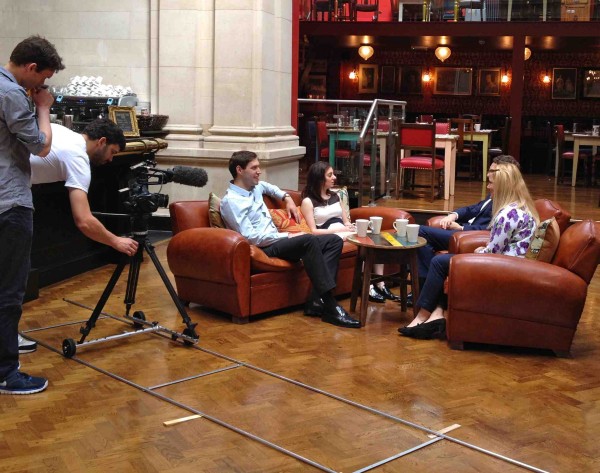 Our eight foot Aviator camera jib also helps us to broaden our creativity, giving us extra height and a whole host of additional camera angles. It operates like a see-saw, with a camera on one end and counterweight on the other. The operator can move it both up and down and from side to side, or through an arc which combines the two. We put the jib through its paces while capturing footage atop Glastonbury Tor for BBC One documentary and since then have found it invaluable in giving our corporate films a new dimension. It is useful when showcasing an amazing building or workplace and came into its own when capturing the amazing atmosphere and quirky nature of Hall and Woodhouse's multi-million pound pub renovation in Bath.
Finally – and certainly by no means least – our Go Pro Hero 3 cameras have proved invaluable this year. As part of our filming work for International Dance Festival Birmingham, we used these tiny cameras to capture some incredible angles during the live performances of Concert Dansé and B-Town, the two flagship shows. They are so small, that they go entirely unnoticed by performers and audiences alike. They were therefore perfect for filming right from the stage itself. Go Pro cameras are designed for sports and extreme activities, and in the past we have even put them through their paces on a kayak during a solo circumnavigation of Madagascar.
So, what about the future? We are really excited about the limitless possibilities presented by the development of even more amazing tools which stretch the realms of creativity. As well as our new 4K cameras, we're soon to invest in a brand new lightweight Steadicam (Movi M10). This is a handheld device upon which a camera is mounted. It stabilises the shot and creates a fluid motion as the operator moves. One of the first films to use a 'low mode' bracket rather than a chest height Steadicam was one of our favourite movies, 'The Shining'. You might remember the eerie shots following Danny as he trundles through the hotel hallways on his tricycle. If it turns all of us directors here into mini Kubricks, then that surely can't be a bad thing?
Please find a short film above which shows the equipment we've described in action.