The Three Peaks Challenge
By - Richard - 21st May 2019
A while ago I found myself slumped on my sofa eating Toblerone. This was nothing out of the ordinary. I love milk chocolate, and Switzerland's finest is one of my favourites. As I broke off a second triangle (who am I kidding – a fifth triangle) I looked down at the packaging which houses this most addictive of Swiss delicacies. What is that mountain on the box? I thought. It's so iconic, so instantly recognisable and yet I have no idea what or where it is.
I grabbed my laptop to look it up. The mountain in question is the Matterhorn; a distinctive pyramidal peak that straddles the border between Switzerland and Italy. A few clicks later and I found myself watching a memorable and very beautiful online video that some brave soul had posted of a two-day ascent of the Matterhorn. I was hooked. I started digging out every online video I could find about this iconic peak. The ascent is treacherous and only the most brave and hardy of climber need apply.
I have very little mountaineering experience. Watching footage of the vertigo-inducing drops on the Matterhorn made my palms sweaty, and yet I was completely drawn in by its majestic beauty. I want to do something like that! It was then that the [far less risky] idea of attempting the National Three Peaks Challenge entered my consciousness.
This well known challenge involves tackling the highest peaks in Scotland, England and Wales in less than 24 hours. The typical route starts with the ascent of Ben Nevis in Scotland – the highest peak in the UK at 1345 metres. Following this there is a six hour drive down to the Lake District to climb England's highest peak – Scafell Pike, 978 metres – and the challenge culminates with Snowdon in Wales (1085 metres). 23 miles of walking, a total ascent of 3064 metres and a total driving distance of 462 miles. My curiosity was piqued. Whilst this would be no Matterhorn, it sounded like an excellent challenge nonetheless. Sign me up!
I will do the challenge in July, I thought. This will allow me time to get in shape for these mountains. If I'm lucky, at this time of year it will be dry. If I'm very lucky, I might see some sunshine.
Training
I consider myself to be pretty fit. At a minimum I play five a side football twice a week, and I will usually go for a run at some point mid-week as well. In April, on a whim, I climbed my favourite Scottish mountain, Schiehalion in Perthshire, in a pair of jeans and trainers. I managed to summit and get back to the car in less than two and a half hours. I felt in pretty good shape.
I was aware however, that all of the exercise I was currently doing was aerobic. I would need to start introducing some strength and conditioning to bolster my leg muscles whilst embarking on a targeted exercise regime to help traverse the three peaks.
I drew up a loose eight week exercise plan. It looked something like this:
Monday: 10 mile walk in the Pentland Hills
Tuesday: Five a side football
Wednesday: 5k run followed by strength and conditioning
Thursday: Spinning class
Friday: 10k run followed by strength and conditioning
Saturday: Day off
Sunday: Five a side football
I bought ten visits to a local gym so that I could start going to a weekly spinning class. It was here that I also started strength and conditioning training – something which I was painfully aware I should have been doing, but had neglected to do for about, er… 39 years.
My place on the challenge was booked and now I had something to train for. My motivation was high and I relished the opportunity to throw myself head first into a strict exercise regime.
I decided to have a complete overhaul of my diet as well. I could do with losing a few pounds. Earlier this year, on one of my weekly challenges, I went seven days without sugar. It was tough, but I knew that this was key to my weight loss. My new diet would severely restrict my sugar intake. Out with the Toblerone and in with the green vegetables, protein and healthy fats. In four weeks I lost 10 pounds in weight and was conscious that I didn't want to lose any more. Now I needed to create muscle, particularly in my legs which would bear the brunt of the abuse over 23 miles of hiking.
My upper body also needed careful conditioning. I intended to take a lot of photography equipment with me on this challenge and there was a good chance that my rucksack would weigh over 10kg. I needed to have the strength and endurance to carry this weight over the distance.
Over the course of eight training weeks, I fell in love with hill walking. Weekly yomps in the Pentland Hills were an absolute joy and I couldn't wait for Monday evening to roll round again so that I could take off into the wilderness with just my headphones for company. These training walks were vital to my acclimatisation. My legs got used to powering up hill at a rapid pace and every week I would slowly introduce more weight into my rucksack to get used to the load I would be carrying.
Weight training helped enormously. Whilst I will never enjoy lunges or burpees, the more of these I undertook, the more I could feel my legs getting stronger and stronger.
After eight weeks of dedicated training I felt ready.
Vlog
Over the past few years I have become disciplined at taking a stills camera everywhere I go. Whilst I am a filmmaker by trade, I love taking photos and will rarely pass up the opportunity to photograph somewhere new, or somewhere I haven't been before. The National Three Peaks Challenge, by its nature, would provide some amazing photo opportunities.
If I'm going to take photos of the challenge, then I should do it properly. I decided I would make a short film about my attempt to conquer the three peaks. However, I would need to film it all by myself, so therefore equipment would need to be kept to a minimum.
I have never been good at packing lightly, particularly so when it comes to packing equipment that I might need for a shoot. I would much rather have a piece of equipment in the car and not need it, rather than need it and not have it in the car. This ethos extended to the camera gear I would be carrying on my back for the three peaks. After much research, I purchased a new LowePro 450 camera back pack. This would allow me to take my clothing, food, and water whilst also allowing me to pack the following:
1 x Canon 1DX Mark 2 stills camera
1 x 24 -105mm lens
1 x DJI Mavic Air drone
1 x Canon XA 25 video camera
1 x Rode video mic plus
1 x Joby gorilla pod (tripod)
1 x Go Pro Hero 6 camera
1 x FeiyuTech G6 3 axis gimbal
I assure you, it was all absolutely essential. When fully laden with 3 litres of water, my rucksack weighed over 13kg. Ouch.
Ben Nevis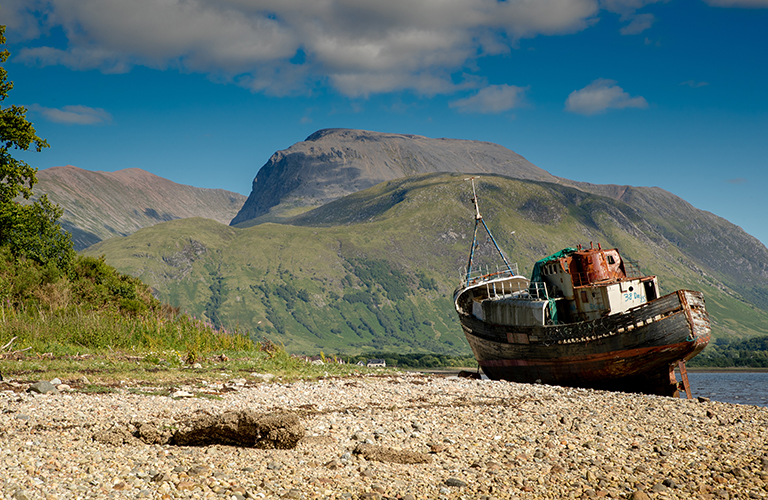 The summer of 2018 had been the hottest for five years. When I booked my place on the National three peaks challenge, I was hoping it would be dry. I would be very grateful if we were to be blessed with a bit of sunshine. By the time the challenge came round, the UK was in the midst of a heatwave. We'd had 15 consecutive days where the temperature had been over 28 degrees celcius and this showed no sign of abating.
I travelled up to Fort William by train the night before and stayed in a B&B with beautiful views of Ben Nevi from across a Loch…. On the day of the challenge we were to meet at Fort William train station. A mandatory kit inspection led to one of the group leaders commenting that my rucksack was huge. He picked it up. All 13 kilograms of it. He implored me to lose some weight from it. I assured him that I knew what I was letting myself in for and that I had been training with that weight on my back. I only had myself to blame, but I was adamant that the weight of my backpack was not going to be a reason to hold me or anyone else back. The eight weeks of intense training I had put in meant I would not be a burden.
There were five groups of 10 people and five group leaders. Essentially this catered for participants who wanted, or needed to set off at a different pace. One group leader was at the front helping push the fastest group, whilst another leader would prop up the rear ensuring that no-one dropped off the pace. We all travelled between mountains in five separate minibuses.
At 8.55am on the Saturday morning we set off on the long tourist path up Ben Nevis. An eerie hush descended over the group as we plodded along those first unrelenting kilometres up hill. The pace was fast. It needed to be of course if we were to stand any chance of completing the challenge in less than 24 hours. But this was tough. I'm fairly sure that everyone was experiencing the same giddy mixture of excitement, heat and nerves. Those first 45 minutes of trekking before we stopped for our first water break were a chastening experience.

Slowly, as we progressed up the mountain everybody started to find their own pace. There was an eager group at the front who pushed onwards quickly aiming to get up and down the mountain as fast as possible. With my desire to shoot as much video footage on the mountain as possible, I wasn't keen to be in the lead group. I needed some leeway so settled comfortably into the second group and this allowed me to shoot footage at every available opportunity.
The trek up Ben Nevis is a long slog. We were blessed with glorious weather and the heat made the climb even more energy-sapping. There aren't many days when you can summit this mountain in just a pair of shorts and T-shirt, but today it was a necessity. Turnaround time at the top of the mountain needed to be quick. I had just enough time to break out the Mavic Air drone and shoot literally three minutes of footage before it was time to head back down.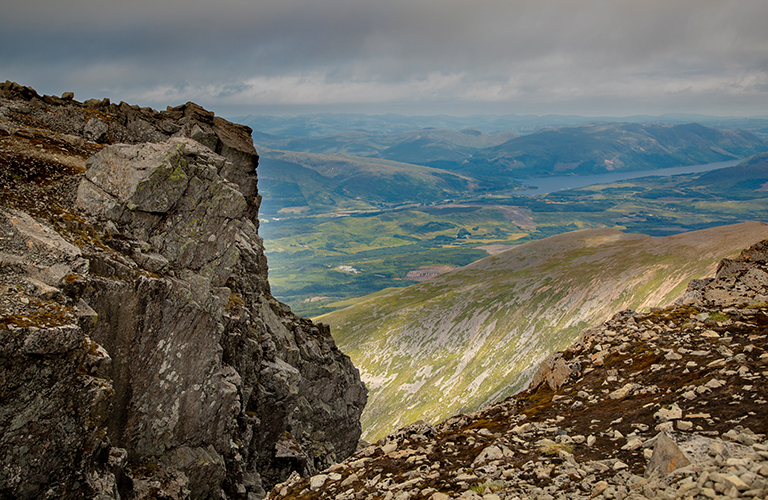 It wasn't long before I realised where my hillwalking ability was lacking. My pace descending Ben Nevis wasn't fast enough. The heavy back pack put great strain on my knees and my pace was suffering.
A leisurely descent afforded me the luxury of taking photos at every available opportunity and I'm glad that I got to experience the mountain rather than rush straight up and down. But my time of 5 hours and 2 minutes up and down this mountain wasn't great. I had time to make up in the Lake District.

Scaffel Pike
The six hour drive down to Scaffel Pike was punctuated with one brief toilet stop and a slightly longer (10 minute) chance to get some food at Abington services. Any opportunity to get food on board was vitally important. Abington Services had little choice, but some noodles and sweet and sour chicken gave me some much needed calories.
We were rapidly approaching golden hour as the highest peaks of the Lake District came into view. The clock was ticking so the minibus wasn't hanging around. Umpteen roundabouts were negotiated at speed. Even the deepest of sleepers weren't able to get much rest during this stretch of the journey.
We arrived at Wasdale Head at the foot of Scaffel Pike at about 8.30pm. We needed to make up time if we were to stand any chance of completing the three peaks in less than twenty four hours. I stretched out my calves, pulled on my backpack and ate a handful of jelly babies. In less than 20 minutes we had set off to conquer our second peak.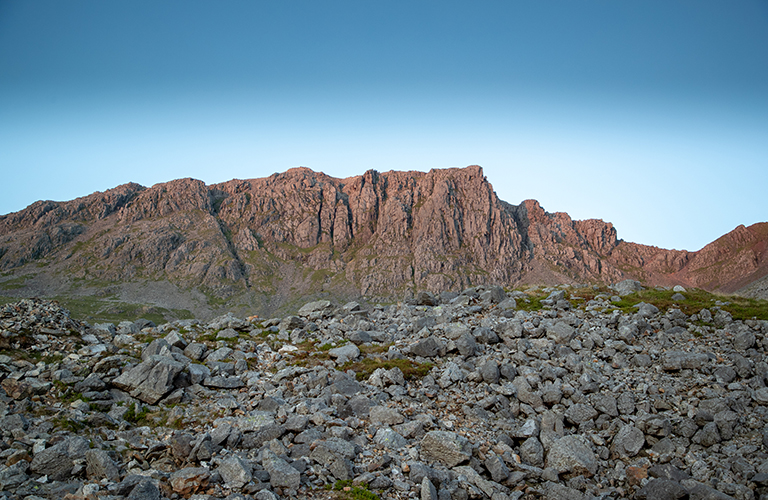 If we had arrived an hour earlier, we would have been climbing with the most magnificent sunset behind us. As it was, we were a little bit late on arrival meaning that the push towards the summit was going to be in near darkness. But it was still hot. Oh god was it hot!
The initial climb up Scaffel Pike is steep and altitude is gained quickly. Rock steps line the path and the first half hour push was hard going. Compared to Ben Nevis, the pace had dropped off a bit and tiredness had begun to kick in. One poor soul took a tumble during the initial climb and injured his knee. He had to be escorted back down the mountain.
We were encouraged to drink water at every opportunity, especially during the initial climb. I drank a whole litre after just 30 minutes. For extra motivation I plugged in my headphones and timed my walking pattern to the beat of the music. The National's Sleep Well Beast seemed to be the perfect accompaniment to this most beautiful of evening mountain climbs.
After the steep ascent up the rocky steps we veered north to the side of the mountain before taking a sharp turn to push to the summit. The terrain changed considerably. The latter part of the Scafell Pike is very rocky and it's easy to lose your footing or roll an ankle. As we got higher though, a beautiful orange glow outlined the other peaks in the surrounding area. Although we were still some way from the summit, this was prime photo-opportunity time.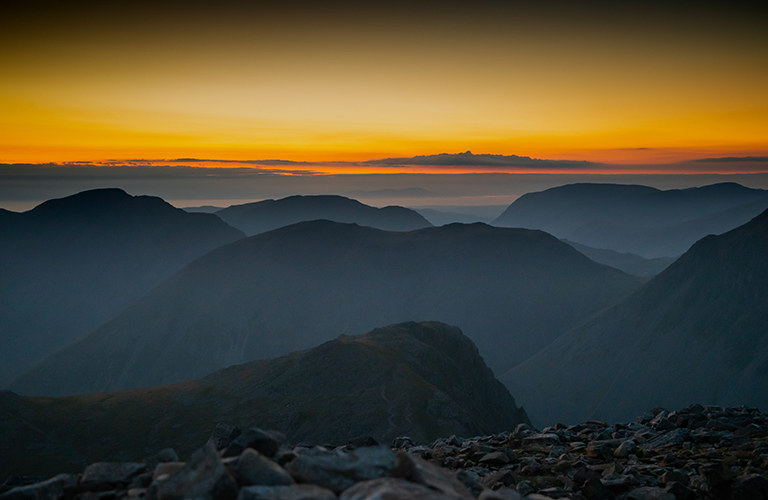 The temperature dropped as we approached the summit. The wind picked up over the exposed peak and it was the first time that day that I had to put on an additional layer. For reaching the top of the second peak I rewarded myself with a handful of more Jelly Babies. There wasn't time to hang around though. Darkness had descended and what little light was left was fading quickly.
I pulled on my head torch and for the first time I broke out the two walking poles I had diligently carried with me up two mountains. The novelty of descending in the dark by torchlight soon wore off. I found my feet slipping on the rocky ground a number of times and was conscious that this was possibly the worst time and place on the challenge to pick up an injury.
There was a steady stream of climbers going both up and down the mountain, even at this time of night. By now it was pitch black but you could still pick out groups of climbers; their head torches like fairy lights in the distance. During the descent, the group had to bunch together. The leader regularly counted us to ensure that all 10 of us were present and hadn't veered off in the wrong direction.
Overall, we picked up speed going up and down Scafell Pike. We reached the minibus at Wasdale Head at 12.15am meaning that our total time up and down the mountain was 3 hours and 25 minutes. If we made good progress on the road to Snowdon, there was an outside chance that we could complete the challenge in less than 24 hours.
Snowdon
I am not a great sleeper. My ears are finely tuned to hearing the slightest disturbance from my two boys aged four and two. I didn't much fancy my chances of getting any sleep on the minibus overnight to Snowdon. I needn't have worried. Despite the windy roads and the relative discomfort of the well-packed minibus, I had my eyes closed in a state of semi-sleep for at least two hours.
We arrived at Pen y Pas at the foot of Snowdon just after 5am. There were a lot of tired individuals wearily tying up their laces for one last mountain. I refilled my water bottles, ate a cereal bar and braced myself for the final push.
We set off on the 'Pyg Track' up Snowdon at 5.25am. This is a slightly shorter route up Snowdon than the more commonly used tourist path from Llanderis. To make the 24 hour cut off for the three peaks challenge, I would have to be back at the minibus by 8.55am. This meant that I had 3 hours and 30 minutes in which to conquer this mountain.
There was not a cloud in the sky and a glorious sunrise cast a beautiful orange glow over the whole mountain range. The air was cool and the conditions were perfect. I felt genuinely privileged to be taking part in the challenge in this weather. I had a spring in my step and now had a cut-off time to aim for.
The route up the Pyg Track is steeper and more challenging than the tourist path (which runs adjacent to the mountain railway). It's also way more fun. The views across an amazing turquoise lake called Llyn Glaslyn Loch and the site of Snowdon's summit from behind Crib Goch were simply breathtaking. I had never seen anything like it in my limited hill-walking career.
Up until now the path had been relatively flat, but it quickly became very steep. With the clock ticking, whether or not we completed the challenge in 24 hours all came down to how quickly and successfully we could negotiate this tricky climb. It was getting hotter. Although it was still early in the morning, the sun was beating down on us and scrambling up the mountain using our hands and feet was a real challenge.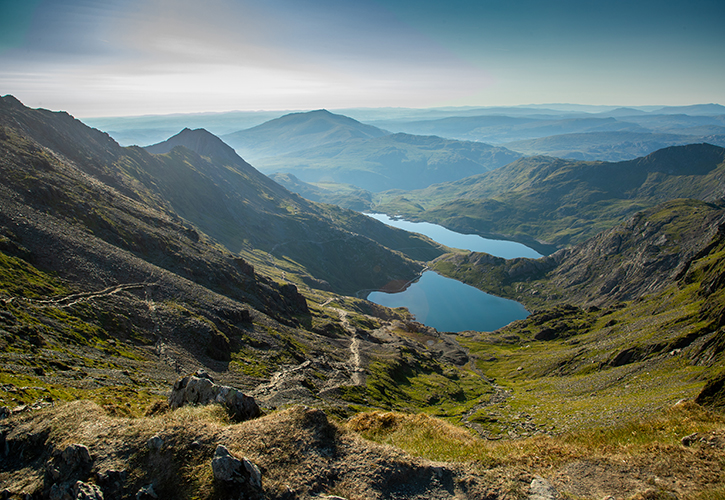 The hours of training came into their own here. Sensing that we had a chance to complete the challenge within 24 hours, we powered up Snowdon and before long we had joined the Llanderis Path and could see the summit in our sights. Any pain in the legs or feeling of exhaustion quick extinguished as we got closer.
We conquered our third peak just after 7.30am. The unparalleled views across Snowdonia demanded that we take mutlple photos and savour this moment. We had completed the three peaks! Now there was just the small matter of getting back down to the minibus. Unbeknownst to me, we would be going back down the Llanderis path which, at 4.5 miles in length is quite a bit longer than the path we had just come up. By the time we left the summit of Snowdon we had 1 hour and 10 minutes in which to get to the minibus and successfully complete the challenge within the 24 hour time limit.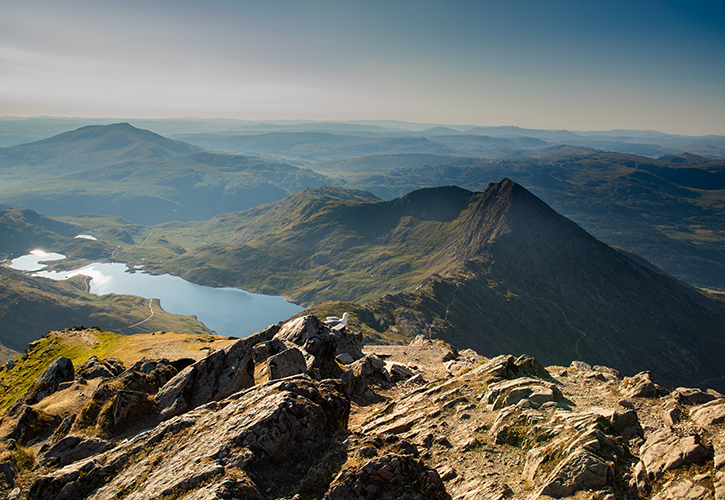 The descent down Snowdon was not enjoyable. I had learnt from Ben Nevis that coming down mountains was not my forte. My 13 kilogram backpack certainly wasn't helping at this point and for the majority of the descent I was running. There was no time to stop for a water break and a small group of us kept up the relentless pace. The last mile became a full-on run. My knees weren't thankful for this.
Finally, I arrived in Llanderis. As I turned the corner into the car park and saw the minibus, I checked my watch. It was 8.40am. I had completed the challenge with 15 minutes to spare – a total time of 23 hours and 45 minutes.
In conclusion
Completing the National Three Peaks Challenge was a thoroughly enjoyable experience. I feel incredibly lucky to have climbed these mountains in such glorious weather and I doubt many walkers would experience conditions as good these across all three mountains.
This does perhaps skew my view of the challenge. Had we faced torrential rain and wind and not been greeted with stunning views from the summit of each mountain, I dare say it would not have been nearly as enjoyable. As such, I was faced with no great hardships across all three mountains.
Yes, you need to be fit to undertake this challenge. Certainly my training plan came into its own on Snowdon when I needed a final boost, but the long driving distances between mountains affords you the chance to get plenty of rest. This challenge is certainly not as tough as undertaking a marathon.
The nature of the 24 hour challenge means that there is no time to hang around – as proven by the fact that I only had 15 minutes to spare. One unfortunate traffic jam or prolonged rest at one of the summits could easily jeopardise your chances of completing the challenge within the time limit.
Perhaps here lies my main gripe with doing this challenge in 24 hours. There isn't enough time to appreciate the mountains and take in the surroundings. Completing the three peaks in 36 hours or over three days would make it much more leisurely (and probably enjoyable) but it would of course be much less of a challenge. And it's the challenge that draws people to the three peaks. So, it's a quandary…
Completing this challenge has given me a love of hillwalking. There is something so unique and beautiful about simply strapping on a pair of boots and heading off into the wilderness. It has also made me think about what challenge I can do next. For now, I am grateful to these three mountains for providing me with a truly memorable experience.
Richard Nicholls