Review of the Redrock Micro 'One Man Crew'
By - Richard - 5th March 2015
We first came across Redrock Micro's 'One Man Crew' just over a year ago. This bit of kit looked too good to be true. Essentially it's a motorised dolly system, or an automatic parabolic slider that allows you to achieve perfectly smooth movement. It is designed for use in interviews and enables you to achieve highly cinematic dolly moves which, up until recently would have been frankly too expensive and cumbersome for a small production outfit to achieve.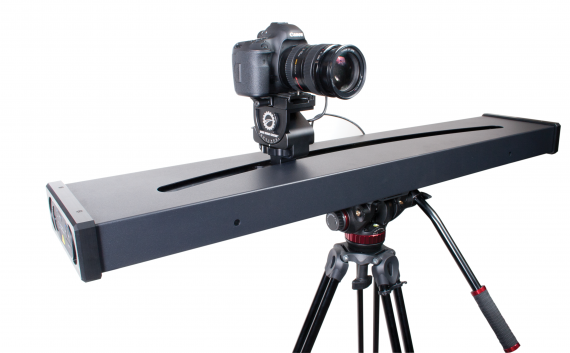 The system is arced which means that the camera is optimised to keep the subject you are filming in focus throughout the trajectory of its course. And it works like a dream. Or should I say, when it works, it works like a dream. For a better explanation of how this system works, have a look at the film below which shows a few scenarios where we have put it to good use.
Two little lasers enable you to position your subject at the optimum distance from the device (approximately 2 metres) which will ensure that the camera stays in focus as it travels back and forth. There are 3 speed settings which can be set within the unit and for each speed setting there is a dial from 1-10 with variable speeds. The beauty of the One Man Crew is that its speed tapers as it reaches the end of its course before coming back on itself. This means, in theory, that you can use all of the footage captured whilst using it in an interview situation. We were sold!
At over £1100 it's not cheap, but we knew of plenty of situations where we could put it to good use. Our only concern upon purchasing the One Man Crew was to do with noise. It's a motorised device and the by-product of a motor is sound. When used on its slowest setting the noise is bearable. Increase the speed however and the sound does become an issue. You can clearly hear the motor and it's too loud for recording usable sound. As long as you understand its constraints for interview use you won't be disappointed. It's tempting to increase the speed to exaggerate the effect, but this simply isn't possible when recording interviews.
There's no getting away from the fact that it is heavy. This is not designed to be moved about like you would with a slider. In fact the instructions specifically mention that it should not be moved with the camera attached. The power lead for the One Man Crew is desperately poor. It's way too short. We ended up buying a D-tap cable to power the unit from a V mount battery. Using velcro we attached the battery to the underside of the unit. This works fine, but again does increase the overall weight. You will need a very sturdy tripod to accept the payload.
We bought the One Man Crew last summer and used it sporadically on two projects over the course of six weeks. We used it with our Canon C300 and it was great… while it lasted. After 6 weeks the motor died. It was rendered useless. Still well within its 12 month warranty we contacted Production Gear who sold it to us. We ended up paying £75 to send the device back to the retailer who duly sent it back to Redrock Micro in America to get it repaired. We asked for a brand new one but were told that this wasn't possible and that the only option was for it to be repaired.
After more than 4 weeks, it arrived back from the States. We may be at fault here but we didn't check that it was working straight away. A further month later and we used the One Man Crew for the first time since it had been repaired. Immediately we knew that it wasn't right. The motor was stuttering slightly causing the camera to vibrate rendering it unusable. Heavy sigh. We contacted Production Gear again and asked for a brand new one. Again, apparently this wasn't an option and the unit would once again have to be sent back to the States for repair. This time we refused to pay for the courier costs to ship it back to our retailer. Five weeks later and we are still waiting for it to be shipped back to us, although admittedly we have been told that it will be with us imminently.
Overall, it's a fantastic bit of kit. We love the effect it produces but have serious doubts over its longevity. It doesn't bear thinking about how much it would cost to repair the One Man Crew once it's out of warranty. And we fear that its's only a matter of time before it does stop working again. It's a shame because we would love to recommend this, but based on our experiences it's something which is best avoided.