Obtaining a permit for aerial filming
By - Richard - 1st February 2016
Once again the issue of drone safety has been brought sharply into focus with recent reports of, "four serious near misses at UK airports". On the back of a drone dropping out the sky and narrowly missing a skier in Italy, never has the issue of drone safety been more important.
Having worked on a couple of projects last year where we needed bespoke aerial footage, we were amazed by the possibilities that drone technology now offers. In December, we took the plunge and purchased our own Inspire 1 Pro, a remarkably steady quadcopter with a Zenmuse X5 camera with interchangeable lenses capable of shooting 4K footage. The scary thing is, there is nothing to stop anyone from buying a drone, taking it out of the box and flying it without any experience whatsoever. On our first flights we were incredibly cautious, but you can bet that others will be less so.
In order to fly a drone for commercial purposes (that is to say, to be able to offer aerial filming or photography as a service to a paying customer) drone operators need to obtain a Permit for Aerial Work from the Civil Aviation Authority (or for those who love acronyms – and the world of unmanned aviation is full of them – a PFAW from the CAA). Earlier in January, we signed up with UAV Air to start the process of obtaining this permit. And it's a long process.
Once signed up to the course, candidates are required to complete some remote learning (estimated at 40 hours worth of studying) to help absorb key information which forms part of a theory exam which must be passed in order to obtain the Permit for Aerial Work. Passing the theory exam is just one part of the process. Candidates must also pass a 90 minute flight planning exam before successfully completing a practical flight assessment (essentially a driving test) where the operator's handling of a drone is assessed on a number of criteria. Safety is the key thing here and the flight assessment is as much about processes, procedures and checks that the operator has in place as their flying ability.
UAV Air offer a Fast-track course over 3 days where candidates undertake two days of ground school before moving onto the flight assessment on the final day. This weekend, Swift Films' Director Richard Nicholls successfully completed Ground School, passing both the flight planning and theory exam. The course was held at Perth Racecourse in Scotland. Flying a drone is dictated by the weather and unsurprisingly the flight assessment that was due to take place on the final day was postponed as storm Gertrude wreaked havoc with a deluge of heavy snow, wind and rain.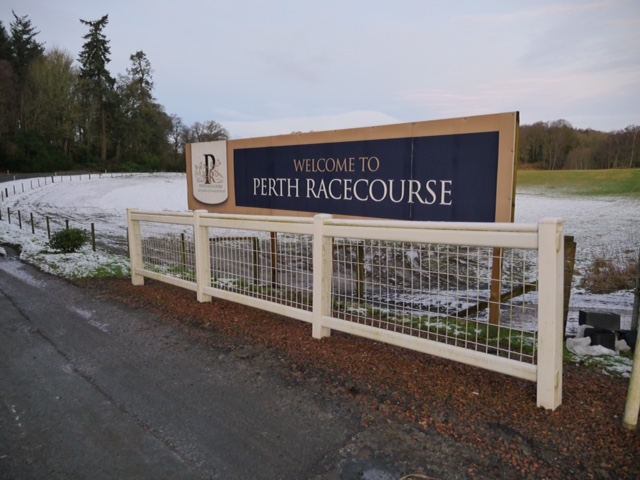 Two intense days of classroom learning are structured around the core topics needed for the theory exam. These are:
Air Law
Airspace
Navigation and Charting
Meteorology
Principles of Flight (General)
Principles of Flight (Remotely Piloted Aircraft System)
Human Factors and Performance
Unmanned Aircraft Operations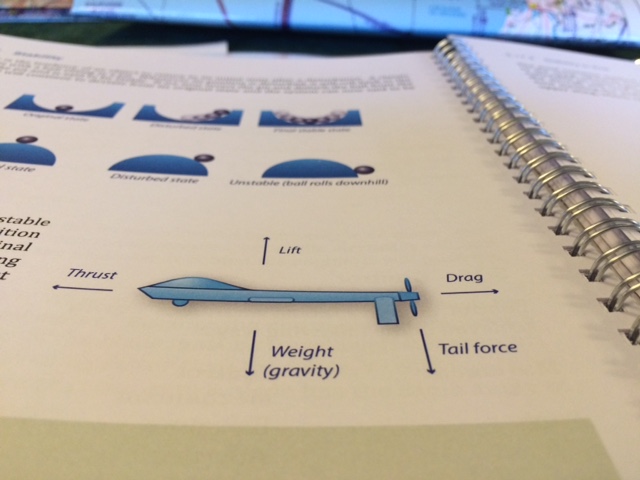 There is a lot to take in and at first glance it is incredibly daunting to the uninitiated. However, the remote learning, with the aid of practice multiple choice questions, plays a key part in absorbing this information. We are surprised how we can now reel off Newton's three Laws of Motion without having to consult old school books, or tell you outright about the restrictions placed on aircrafts of different weights in various airspaces. This is testament to the structure of the course and the three tutors who provide an intense, but engaging two days of learning.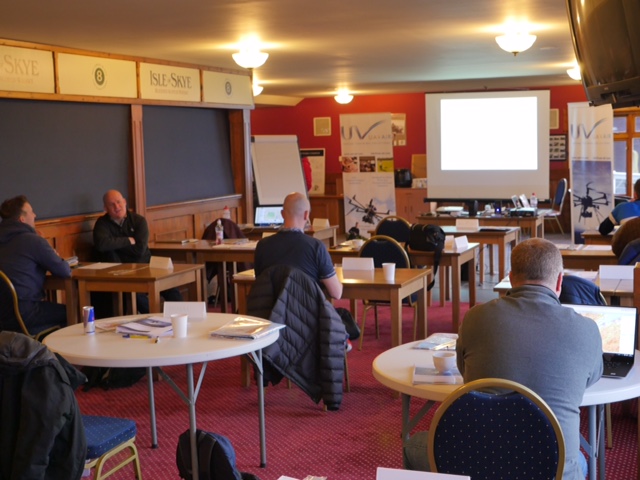 There were about 15 students on the course, all with different backgrounds and ideas about how they will use their drones, but the hard work for obtaining the permit has only just begun. After passing the Flight Assessment (which should hopefully be rearranged for a convenient date over the next few weeks), anyone wishing to obtain the Permit for Aerial Work must complete their own Operations Manual detailing how they will operate their drone and mitigate any risks associated with flying. There have been reports that this manual can take up to 160 hours to complete… Upon submission of the manual, candidates can hopefully receive their permit and start unmanned aircraft operations for commercial purposes.
Obtaining the permit is a very long process and quite daunting to those new to new to flying drones. But it's a vital part of understanding how to operate safely and confidently. Our thanks go to UAV Air who helped get us through Ground School and to the three excellent tutors whose tireless enthusiasm made two long days of learning enjoyable and rewarding. We're one step closer to being able to offer this service!