How to create the most value from your video shoot
By - Kirsty - 21st March 2017
Okay, so you want to make a video. That's one video with one important brand message, right? Wrong! You can get so much added value from your video production. Here's how.
1. Get more bang for your buck.
Take short clips from your film and post them on your social media channels. After all, organic Facebook engagement is highest on posts with videos. You could use an interview snippet or scenery shot that effectively illustrates your brand message.
Last year, we produced a simple little film for National Trust Jobs (see below). Filmed in just one day by one camera operator in the winter rain, it was used in both its full-length form and also as 5 x 20 second social media clips. Remember that 85% of Facebook video is watched without sound, so add subtitles to your cut-down content.
2. Tease your audience.
Get snapping away behind the scenes and take some still images of your shoot. Share these via social media to build anticipation for the launch of your film. Photos will also boost engagement with your posts.
When people read information, they're likely to remember only 10% of it three days later. But pair it with a relevant image and people will retain 65% of that same information.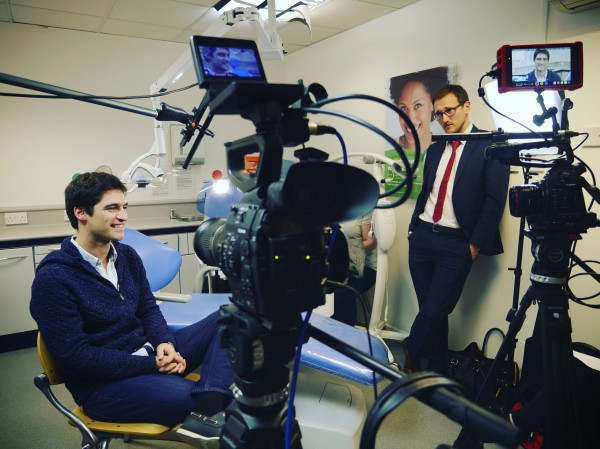 3. Take a break.
Use downtime during your shoot to have a bit of fun in your surroundings. We're quite new to Instagram and decided to share this "Gimbal Dance" with our followers. We shot it quickly during a break in filming, but the 17 second clip has become our most successful Instagram post to date with over 2000 views in less than 24 hours.
75 percent of Instagram users take action – such as visiting a website – after looking at a post (Locowise), so it's definitely worth using your coffee break to create a bit more shareable content.
4. Tell us about it.
Blogs are still the number one content type for B2B marketers. In fact, 52% of them expect blogging to be their most critical tactic for achieving success in 2017. So use the experience from your shoot as inspiration for a blog post.
5. Mistakes aren't mistakes.
Instead of abandoning your outtakes on the cutting room floor, why not use them to put together a short film? Sharing your gaffes will give even the driest of subject matter a more personal feel. Here's a selection of out-takes from a talking heads shoot we did for Endsleigh.
6. Show off!
If you're going to spend time capturing beautiful landscapes or aerial shots for your film, then put them right in front of your client on your company's homepage. We're doing just that on our brand spanking new website, which is coming very soon. Create a loop of your favourite clips and use it as a web banner. View the 30 second homepage banner we've created for our new website below. Smiling faces or impressive office shots could do the trick too. Eye-tracking studies show internet readers pay just as much attention to images of real people and situations as they do stock and decorative images.