How much can I achieve in one filming day?
By - Richard - 26th August 2015
Orson Welles once said, "a writer needs a pen, an artist needs a brush, but a filmmaker needs an army". 50 years later, in narrative filmmaking these words still ring true. But Welles perhaps didn't anticipate the advances in digital technology that would make it possible for filmmakers to operate alone.
Last month we produced another short film for our client RAC Business about Telematics. For the uninitiated, a telematics device is a small black box which can be attached to a vehicle to monitor its whereabouts, and provide a whole range of information about driver behaviour.
The film was shot in Walsall at the RAC building overlooking the M6 motorway and was produced and directed by one cameraman / director in less than a day. This is the most simple and cost effective of set ups for short online films.
Clients often ask us about how much can be achieved in one filming day. We thought we would use the example of the film below to illustrate how it was produced to give you an idea of the things to think about when planning your own shoot.
CONTENT OF THE FILM
What is the key message that you want to convey and how are you going to convey it? Typically for a short online film, this could be done with voice over, talking head interview, observational footage or a combination of all of these. In the example film above, the client wanted to convey a lot of specific technical information and statistics. It was important to feature three key people from RAC so we agreed that we would conduct three talking head interviews to convey the content of the film.
TALKING HEAD INTERVIEWS
When considering the location for your talking head interviews there are a number of things to consider.
What does the background look like?
Does the look of this background help convey the message I want to communicate and is it on brand?
What are the acoustics like of where I want to film? Are we going to be adversely affected by people walking past, loud traffic outside or uncontrollable air conditioning?
For the example film above, we set up two talking head interviews in the same room using the RAC branding in the background. It was important for the client to have consistent corporate branding throughout the film. Acoustically, the room had quite a bad echo. To reduce this as best we could, we placed a Sennheiser 416 microphone on a stand over the top of the interviewee. This also has the added benefit of not needing to see a lapel or radio microphone on the interviewee. The third talking head interview was conducted in the car park outside using the branded van as the background.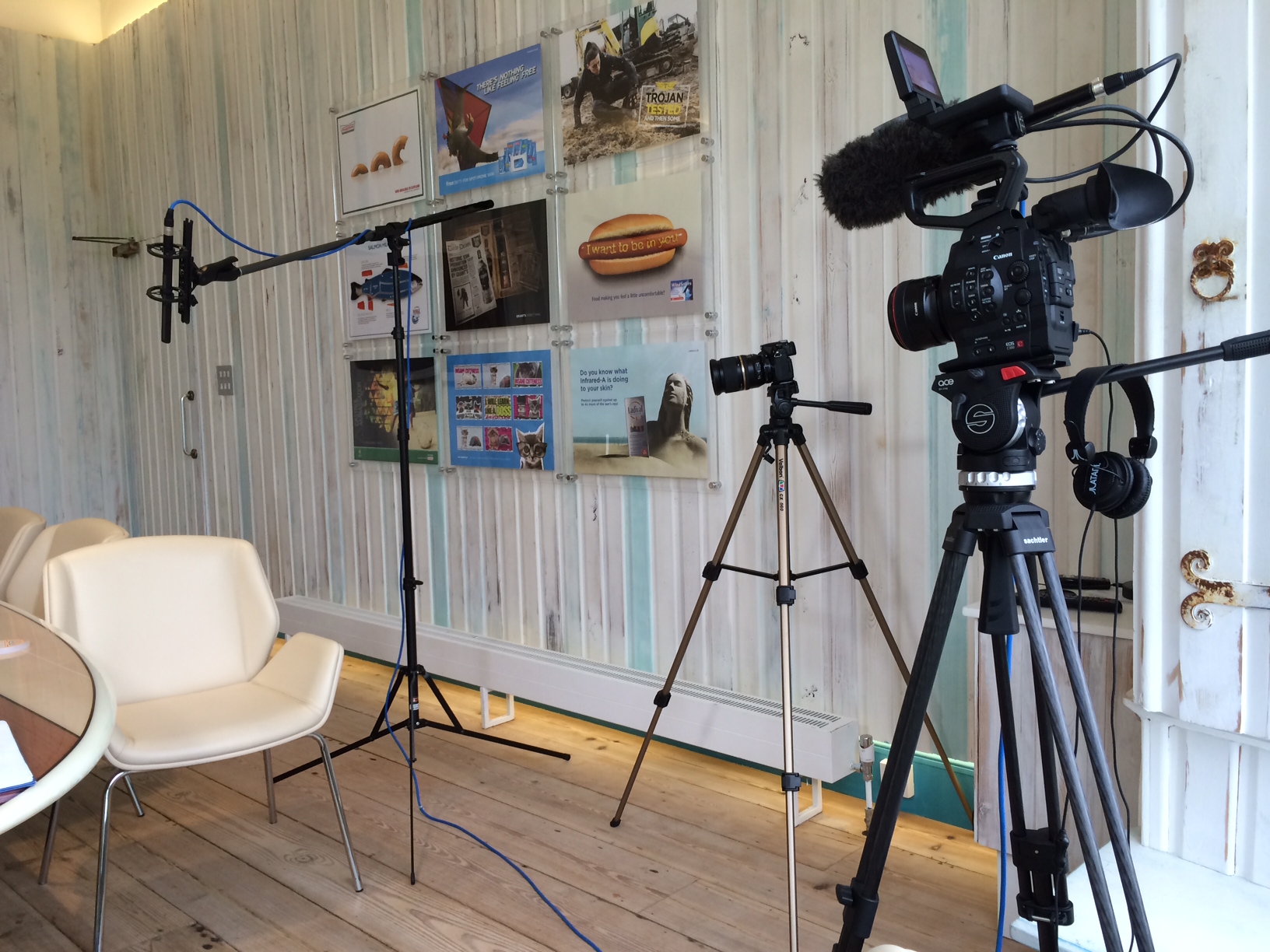 SCHEDULE
The loose schedule for the day was to spend the morning conducting interviews and the afternoon shooting additional shots we would need for the film. Our flexible schedule for the day was as follows:
09.00 Arrive at location and set up for the first interview.
09.30 Shoot interview 1.
10.15 Set up for interview 2.
10.30 Shoot interview 2.
11.15 Set up for interview 3.
11.30 Shoot interview 3.
12.00 Shoot general shots around the building.
13.00 Lunch.
13.30 Set up for filming roadside shots.
14.00 Film road shots inside the van.
15.00 Film road shots from outside the van.
15.30 Film exterior shots of the building.
16.00 Wrap.
When planning your own filming schedule, do consider the following :
Have I allowed enough time to set up? Talking head interviews take time to light and frame correctly. Ideally we like to have at least half an hour to bring in equipment, set up lights, cameras and sound before we're ready to start recording interviews.
Is there any contingency plan in my schedule if timings run over? Interviewees generally become more comfortable the longer the interview goes on. You may want to revisit some of the earlier questions once your interviewee is nicely warmed up.
Can we move the schedule forward if we are running ahead of time? Running ahead of schedule provides scope for achieving more from the filming day. If things are going well, are you able to bring in your next interviewee straight away or get access to your next location earlier than anticipated?
Be flexible. Bear in mind that schedules change, things can over-run and ideas pop up on the day which can throw everything out of kilter.
LOCATIONS
Be realistic about how many locations you want to feature in your film. Moving location and setting up from scratch is the thing that will eat away the most time from your filming day.
The interior shots for the film above were all conducted in one location. The exterior (driving shots) were filmed in the surrounding roads nearby. Little to no time was wasted in moving between filming locations on the day.
PLANNING
When planned correctly, one cameraman / director can achieve a lot in one filming day. The film above ended up being just over three minutes in duration and was comfortably achieved in one day.
When planning your own shoot, be realistic about what can be achieved and allow time for the subject of your film (or interviewees) to be made to feel comfortable and not rushed. Ultimately, you should enjoy the experience! Producing a short online film is not an every day occurrence and it can be a great way to get people engaged and working together.
If you'd like to have a chat about producing an online film, please don't hesitate to get in touch to discuss any ideas.