Archiving video footage
By - Richard - 16th April 2015
We've been producing films for over 10 years now and have amassed a substantial amount of important digital files which we need to protect. When we first stated producing films, everything was still being shot on tape. Digibeta was the format du jour in the late 1990s and early 2000s before the advent of High Definition. Early HD cameras were tape-based before pretty much everything became tapeless. The beauty of shooting on tape was that your footage was immediately archived. Tapes were ingested into the edit suite for editing and placed back on the shelf. If you ever needed to re-digitise the footage, it was simply a case of finding the tape from the shelf and voila – there was your footage.
The tapeless revolution was inevitable and on the whole it has been a good thing for the film and video production industry. Tapes were prone to drop out and could be affected by humidity and dust. Memory cards have their issues too, but with many cameras having dual format recording options (being able to record to two separate memory cards at the same time) thankfully a lot of the worries and concerns over acquiring video footage have been eradicated.
Now however, content producers have to think carefully about how and where their media is stored. Gone are the days where you retrieve a tape from a shelf if you ever need to revisit the footage. Everything has to be stored digitally. In the main, consumers and professionals are aware of the importance of backing up digital files and usually this means saving media on more than one hard drive. But hard drives are prone to failure and apparently it's only a mater of time before your hard drive, with all of those precious files, fails to spin up one day. If you have ever experienced the loss of any important digital files you will be only too aware of the need to back up and protect everything you create.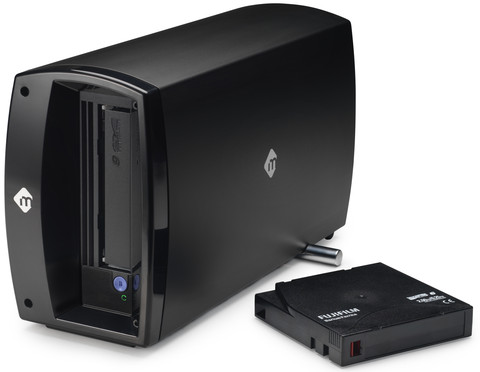 The school of thought in the production industry is that your files are not safe unless they are backed up in 3 separate locations. This is what we have been doing for our tapeless acquisitions since about 2009 and this includes keeping one copy safely stored in an off-site location. But as the years have gone by, the available space on our Raid drives and external drives has slowly decreased. We're in the position now of needing a substantial amount of free disk space for future projects. As NAB 2015 has proved, the future of video production is 4K. At more than 8 times the resolution of High Definition, the additional space that is going to be needed for storing and processing this 4K footage is going to increase exponentially. So, what's the solution? Well, rather than invest in additional Raid drives or hard drives which doesn't solve the problem of archiving older projects, we have just invested in an LTO-6 tape drive for the long term archiving of our work. This format is considered to be a safe, reliable and affordable way of archiving terabytes of information. LTO (or Linear Tape Open) is a format which has been around for years and crucially is not produced by just the one manufacturer. The pricing point of a new Thunderbolt enabled LTO-6 drive (the mLogic mTape LTO-6) has suddenly become affordable to Small and Medium sized enterprises whereas archiving on Linear Tape in the past was the reserve of larger production companies and usually handled off-site by a third party.
In today's tapeless digital world, it does seem ironic that the safest and most secure way of archiving files for the long term is to place them back onto tape. The lack of mechanical parts inside a tape means that the manufacturers are claiming that archived material stored on an LTO tape is safe for up to 30 years. The beauty of the new LTO drives is – with the addition of third party software – the simplicity of how they function. You place your files onto an LTO tape by dragging and dropping as you would with a hard drive.
We are in the process of archiving over 60 Terabytes of important video data we have accumulated over the years. It's a long process, even with the addition of the fast thunderbolt connection. The LTO-6 tapes (which currently retail at an affordable £30 +VAT ish) can hold 2.5TB of uncompressed data. For all of our projects we will hold one LTO tape on site and another off site and also keep the most important and frequently accessed files on our Raid Drives. But the beauty of this archiving system is that we now have a safe back up of all of the work we have produced over the last decade. If a client ever asks us about a project we filmed 4 – 5 or more years ago, we are guaranteed to have all of the files from it. This peace of mind and service which we can provide for our clients is something which we are very pleased to be able to offer.
RN