Our work
Video marketing tips
5 reasons why Behind The Scenes (BTS) videos can have a powerful effect on your business
By - Richard - 14th February 2017
Recently we were asked to produce a fun and engaging 'Behind The Scenes' video of a photo shoot for Topps Tiles. The client wanted the film to incorporate short sound bites from employees about why they enjoy working there.
5 Reasons why Behind The Scenes (BTS) videos can have a powerful effect on your business.
1) It shows personality.
Capturing the fun elements of a photo shoot (or any Behind The Scenes video) demonstrates that your business has a good time and isn't afraid to take itself too seriously. The photoshoot showcases your employees in a fun environment.
2) It creates valuable marketing content.
Behind The Scenes films can be an invaluable inclusion on any website. If you've invested time, effort and money in a new campaign, product, service or website, being able to share a 'Behind The Scenes' snapshot of the hard work that went into creating this can be highly rewarding. Beyond showcasing the BTS video on your website, you're creating valuable collateral for all of your social media channels; Facebook, Twitter, Instagram, Google+ and Snapchat.
3) It offers an intimate experience of your brand.
Behind The Scenes videos provide an exclusive insight into your business and allow your followers to be part of the making of something. You're providing an intimate experience of your brand. This level of authenticity helps to build trust and loyalty.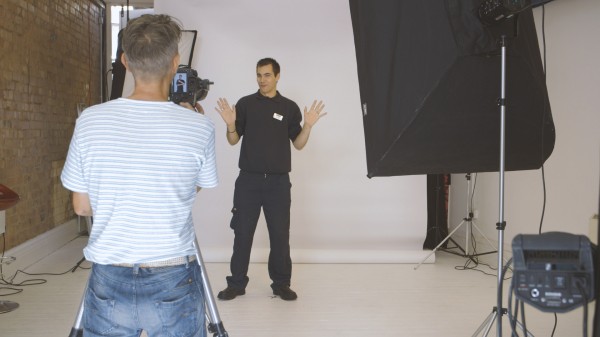 4) It showcases your business in a different environment.
Using a slightly more informal setting, such as a photo shoot, allows you to remove the focus away from your office or business premises. This helps make the whole thing more relaxed. Interviewees can then be more candid and the setting allows you to you show lots of smiling faces!
5) They are simple to produce.
If you're creating a new service, product or website, then it makes sense to capitalise on the marketing potential of Behind The Scenes content. A Behind The Scenes video also allows you to take shorter chunks from the finished video (such as 10-15 second soundbites for Twitter or Instagram campaigns) thus maximising the value from your video shoot.