The power of video for internal communications
By - Kirsty - 12th February 2014
January saw us filming in Wilmslow and London on a new short film for Aldermore Bank. This is the third film we have produced for Aldermore Bank within the last 9 months and the client is starting to feel that video is a very effective way of communicating messages directly to their employees.
The two most recent films for Aldermore Bank have been scripted messages which employees from the company have then spoken directly to camera. None of the people featured in the film have ever appeared in front of camera, but after some initial nervousness, the employees performed admirably.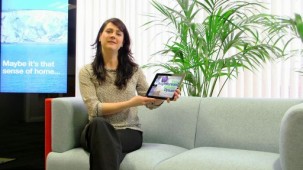 This has got us thinking about the power of using video for internal communications and specifically about using employees of that company for direct communication. These films for Aldermore Bank may have looked and sounded far more slick had we used professional actors or presenters, but there is an honesty about the performances of the Aldermore employees which helps make the message more pertinent. The internal audience will recognise the people in these films which immediately helps with communicating the message. And the client has been thrilled with the results. The latest film was launched internally earlier this week and the client was delighted with response, prompting them to say, "Video went down a storm today. We think it's the best video we've ever made in Aldermore so thank you very much!"
These films for Aldermore Bank were shared on the company's own youtube channel where they are starting to build up a portfolio of films. Using video for internal communication is proving to be a very effective way of getting across various messages for the company. Every time we have produced an internal communications film for Aldermore Bank, we have also put together a short out-takes film which is usually released a week or so after the main film. These have proved to be as much of a hit as the main films and are a great way of giving the client better value for money from their filming days and also for boosting company morale.
If you're thinking about producing a film to communicate a message direct to your employees, please don't hesitate to get in touch to discuss any ideas.