End of the Road wins two awards at the Los Angeles Movie Awards
By - Richard - 6th June 2010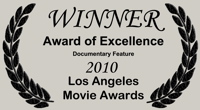 We are delighted to announce that End of the Road our first feature documentary has just won two awards at the prestigious Los Angeles Movie Awards 2010.
The film was competing in the Feature-length documentary category and won the Award for 'Best Concept' as well as an 'Award of Excellence'.
For all the latest news, reviews and screenings of End of the Road check out the film's official website here: www.endoftheroadmovie.co.uk.